I happened to read some hilarious comments in a gossip web site where men in Sri Lanka expressed their sadness over their wives getting fat and not paying any attention to keeping up the body shape after a baby is born. Then I thought this is a timely article to write. Running is of course a good way to keep up not only the body shape but the good health. It is one of the best form of exercise for both men and women.

I'm not a professional runner, but I was an athlete once upon a time in life. I've run without any of these luxuries and then with all these things. Therefore I know the difference it makes you feel. On the other hand, the best motivation to run is , buying expensive running suits and items. Then you have no choice, but to run because otherwise you will feel guilty for the money you spent on those :)
(picture credit -
http://withheart.com
)
Running essentials
1. Desire and knowledge to run
I've read some where that the most difficult part of running is putting on the running shoes. True that is. It is all about determination of a strong mind.
Well, without that strong mind you need to continue running, without that desire to look what you wish to look like, without that ambition to stick to a training plan, there's no point buying any of the below items. Therefore I note this as the most essential thing you need.
Even if you are involved in sports and already knows at least about how to warm up and warm down, still I would recommend you to read some technical aspects of running. Its worth reading before you learn things hard way.
2. Running shoes
There are all types of running shoes. I suggest before you buy an expensive shoe, better do some reading on shoes. Because the right type of shoe actually depends on many things such as the road or track you run , your ankle and arch etc.
Advantages of using running shoes
Comfortable Cushioning to prevent injuries
Flexibility
Stability or Motion control
Shock absorption
Breathability
Protect the leg from dirt in the road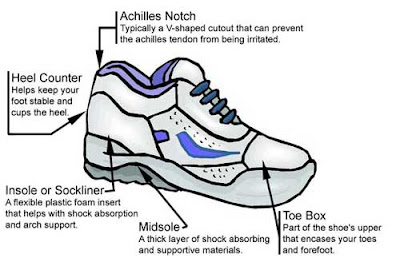 3. Running cloths
Running cloths for beginners not have to be all fancy, but need to be comfortable and breathable. Specially if you wear very warm t-shirt or a heavy trouser while running , it will generate much body heat and your energy left for running will be all wasted. You will come home getting tired of the heat than getting tired from running.
Qualities of a good running suit
1. Usually the fabric is polyester. Cotton does not dry quickly.
2. wicks sweat away to help keep you dry and comfortable
3. Breathability - that's why there's a mesh
4. less weight and freedom to move fast
If you are a girl who is running in a road of Sri Lanka, just be mindful about how you look in your outfit. Just a simple reminder that the sick people have outnumbered these days and even a women in a running suit can encourage them !
For a women, a good sports bra is a crucial part of the running suit not only for comfort purposes, but for health reasons.

4. Sports strap / Arm band / Phone holder (of course with a phone)
When you run, its not possible to carry your phone in your hand or in the pockets. Then comes this beautiful accessary to hold your phone and fixed to your arm.
Apart from the usual advantages of carrying a phone, you can track your run with a phone application. (Will discuss in the next point). If you switch on some music in the phone and wear an ear phone, then you will not have to fear about dropping the phone or loosing it. When its in an arm band, phone will not hit you every time you move front like it happens, when its in the pocket.
warning - In Sri Lanka now there's many places built specifically for running. Therefore I do suggest you run in a place like that if you wear this. If you are running in the road wearing this, be careful with thieves. They snatch gold chains with a lock, so this is just too easy to take off.

Same as just be mindful that you don't put the strap too tightly. It will block your blood circulation.
Benefits of a sports strap
Soft and flexible for a fit that molds to your body during a workout
Clear viewing window with touch-screen compatibility for convenience and protection
Accessibility to screen, audio port, volume and screen for on-the-go convenience and control
D-ring with hook-and-loop closure for an adjustable fit
(obtained from
http://store.nike.com/us/en_us/pd/sport-strap-sport-strap/pid-660343/pgid-845567
)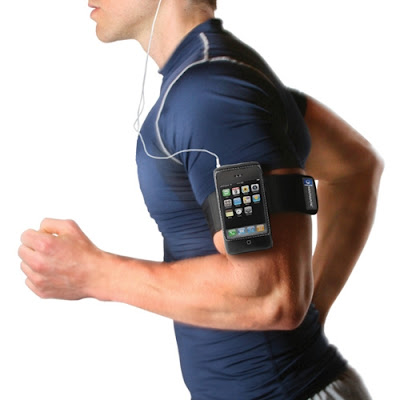 5. Running application
There are many running applications such as Endomondo, Sports tracker / Nike + /RunKeeper , Daily Mile etc. I've used Endomondo, because it was much user friendly for me.
Now this is my best motivation to run. Its an application where it can track you live via GPS. Then it gives you numerous data relating to your run. Its a good motivation to see your progress after a run. Same as you can set challenges with friends and see their performance too.
Some features of Endomondo (free version)
1. There's an online community to share sports data with
2. Can track multiple sports such as cycling, hiking etc
3. Can listen to music while the tracker is on
4. There's an audio coach to give instructions (such as "walk faster")
5. Can set goals and measure performance against it
6. Gives wide variety of data such as distance, duration, speed, calories burned etc
7. Show the trail of walk in the map
security warning - be careful about the friends you add in to your running application. Unlike Facebook, this can show them real time where you are. Same as be careful about posting your running data to your face book. Ignore this warning if you live in a safe country.
6. Music play list
Running while listening to music is a good way to kill the tiredness of the exercise. It makes you calm and takes the stress away. Same as a fast beet song can encourage you to run faster depending on your taste.
7. Heart rate monitor and GPS Watch
There are many advantages of running with a heart rate monitor. Why we need a heart rate monitor? Beginners always think that more calories and more fat will get burned when they run faster and longer. It may not be the case always.
Everyone has something call personal heart rate zone. It is different from person to person. This equipment helps to measure the heart rate through out the run and then coach you on staying inside the correct training plan. With some reading in internet you can easily figure out how it works and how to get the measures. Running inside the specific heart rate zone, not only makes you less tired but saves energy to complete the whole run and thereby achieve your target of getting thin.
Same as it is healthy to use a heart rate monitor if you are not really in to sports. It could proactively avoid a heart attack on the run.
A GPS watch gives more accurate data than a running application in the phone. Therefore if you have money, this is a good to have item.
8. Water and Water bottle carrier - lightweight
Hydration is very important when you are running. You need to use both your hands in running, so you cannot hold a water bottle while running. This handy carrier comes for this purpose. It has other advantages such as a pocket to put the keys.
If you have a friend or a relative who runs, these comes out as valuable gifts for them.
Good luck and happy running :)
p.s - This is not a NIKE advert or something of that sort. I obtained most of the pictures from NIKE site as it was easily accessible and all available in one store. Other pictures are from the sites below.
Referred links
http://store.nike.com/us/en_us/pw/mens-running/7puZ8yz
http://store.nike.com/us/en_us/pw/womens-running/7ptZ8yz
http://strengthrunning.com/2012/06/heart-rate-monitor-training/
http://running.about.com/od/shoesapparelandgear/tp/7-Running-Essentials.htm